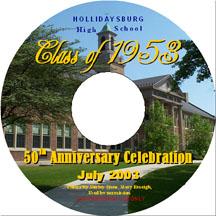 Class of 1953 and Class of 1954

50th Anniversary Reunion CDs

  EACH CD CONTAINS:

Over a hundred candid photos from the major 50th Reunion events;

All photos from the 50th Anniversary Reunion Booklet - bigger and better than those in the booklet;

All GRADUATION PHOTOS from the CHIMROCK;

Over a hundred photos of Hollidaysburg and surrounding areas;

Group Photos from previous reunions, and much more;

Free software to view photos as a slide show on your PC;

Detailed instructions for installing and using the software.

Each CD has a professionally designed 50th Anniversary Reunion label, and comes in a slimline case.

INCLUDE THE FOLLOWING INFORMATION WITH YOUR ORDER:

  - Name

  - Address

  - Phone Number

  - Email address (if any)

  - Year of CD (1953 or 1954) you are ordering

  - Quantity of CDs ordered

  - Amount for CDs

  - Amount for PA Sales Tax

  - Amount for Shipping & Handling ($4 per order)

  - Total amount

Cost: CDs - $25 each

           PA RESIDENTS - Add $1.50 for PA Sales Tax for each CD;

           ALL MAIL ORDERS - add $4 for shipping & handling per order. 

           OUT OF STATE ORDERS - TOTAL $29;  PA residents TOTAL $30.50; 

           LOCALS - SAVE $4 by picking up when ready (near HHS), TOTAL $26.50.

INCLUDE the above information, along with your personal check  for the total amount. 

SEND TO: 

Shirley Stone, 204 Scenic Pine Drive, Hollidaysburg, PA 16648. 

Allow 2-4 weeks for delivery. 

Any questions, call 814-696-0917 or email shirlstone@verizon.net

View CDs on:  TV with most* DVD Players, Windows-based PC, or PC-compatible Macintosh

( * Check DVD Manual to be sure it plays "JPEG" or .JPG or Photo files)